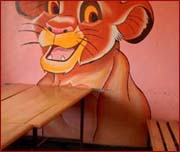 A Few of the good things happening on Flickr, this is how Flickr describe "Flickr for Good' program. Flickr is giving out Free Flickr PRO accounts to organizations supporting good causes.
Flickr has partnered with TechSoup, a US-based non-profit technology training service, to donate 10,000 1-year Flickr pro accounts for good causes.
Usually a Flickr PRO Account comes with a price tag of $24.95 including features of unlimited storage, unlimited uploads, unlimited bandwidth, stat reporting and ad free browsing.
Who can get PRO account for FREE? Currently, this program is only available to qualifying non-profit organizations who are duly registered as such in Canada, and USA, with additional countries in the future.
TechSoup and its international partners will distribute Free Flickr PRO accounts to qualifying non-profit organizations. Check out TechSoup for eligibility terms in details. Here are few qualifying examples:
Interplast posted photos of free reconstructive surgery for children.
Idealist uses photos to further its mission help build a world where all people can lead free and dignified lives.
Get goodies you deserve, in case you are involved in supporting a good cause. Flickr is facilitating you to induce a change for good with your images. Check out – Flickr for Good program.