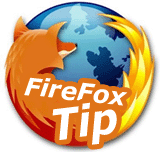 Most of us use default FireFox configuration. When you start FireFox, homepage of ONE website opens up (as set in startup configuration). If you have set yahoo as startpage, yahoo.com will open up by itself whenever FireFox browser is started.
Do you know we can open multiple websites or homepages at start of FireFox? This mean when you start FireFox, it will open multiple sites eg: Yahoo, Google, AOL etc as set by you. How to configure this? Well, it is very easy (see pic below). Here is the simple procedure:
Open FireFox Browser.
Click on 'Tools' option in menu bar.
Then click on 'Options' button there.
Look for 'startup', under main tab.
Set 'When FireFox Starts' to 'Show my homepage' in drop down box.
Type the website address/URL in 'Homepage' box seperated by | symbol.
For example: if you want to open Google, Yahoo and AOL at the same time, then type – www.google.com | www.yahoo.com | www.aol.com
Then click on ok button and close FireFox. Then open FireFox again and you will see FireFox loading all 3 websites by itself. A simple configuration to open number of websites automatically in FireFox to save time and make life easy, what say?