Are you tired of seeing Runonce startup page in IE7 after the IE upgrade or fresh IE7 install? IE7 is notorious to open runonce webpage instead of homepage URL specificed by you. There few easy ways to remove Runonce startup page and work with IE7 like charm.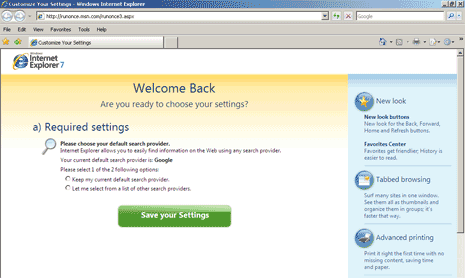 First method – Open IE7 in No Add-on mode. Goto Start > All Programs > Accessories > System Tools > Internet Explorer. Now open the Runonce webpage [http://runonce.msn.com/runonce2.aspx] and follow steps customizing your preferences. After you click finish button, restart your IE7 – it should be fixed.
Second method – This is even quicker by using Runonce remover utility. Just download and run the Runonce remover utility [weblink] and get free from irritating runonce webpage forever. You can also try registry edit method discussed here.