Are you annoyed with 'the people widget' pop-up box appearing at top right part of Gmail inbox window? Few users may find this highly intrusive and disturbing the normal flow of checking / replying emails. While 'the people widget' has merits for usage, however for users not interested in social interaction with email senders – it is useless and may look as just another pop-up advertisement hogging the Gmail inbox view. Fortunately, Gmail has option to disable and turn off ' the people widget' option.
What is 'the people widget' box in Gmail inbox
In Gmail 'the people widget' box is located at top right part of the inbox. It displays contextual information about the people (email senders) you are interacting with in Gmail.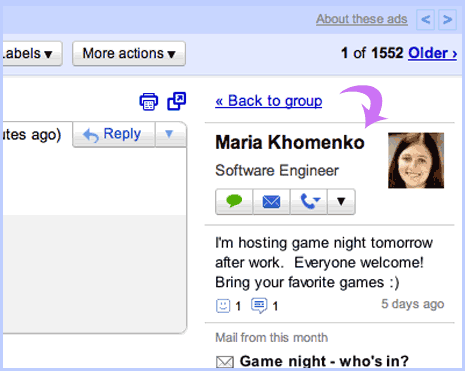 While checking email messages, basic information about email sender is displayed in 'the people widget' box. Displayed information may include: occupation, email address, recent email sent by that contact, Google Calendar events if your contact's Calendar is shared with you, Google documents shared with both you and the contact and recent buzzes contact has posted.
Turn off & remove 'the people widget' in Gmail
1. Open you Gmail inbox by going to gmail.com website. Please note: since this is a new feature, it is being rolled out in phased manner. There could be possibility of 'the people widget' box not active for your Gmail account.

2. Click on Options icon at top right and then click Mail Settingslink. Alternatively, you can directly open Gmail's Mail Settings weblink.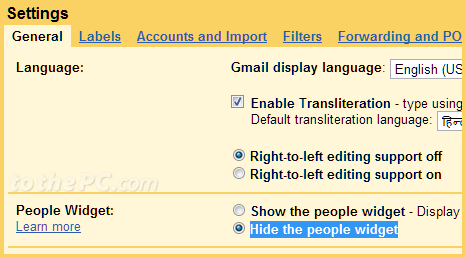 3. On Settings webpage under 'General' tab, look for People Widget option. Click the check "Hide the people widget" option. Then click Save Changes button at bottom. This will disable and remove / hide 'the people widget' box.
If you change your mind and want 'the people widget' box back to your Gmail inbox – just click to select "Show the people widget – Display information about participants to the right of each conversation" option and click Save Changes button.