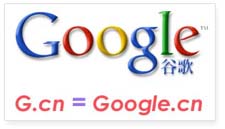 Big G is always in news, the latest buzz comes from Google operations in China. After US, India and China are main focus for Google.
Big G making it all easy for Chinese web users to access Google search.
How? Well, it has acquired shortest domain name for Chinese version of Google search engine. Domain name only has one letter 'G', with maximum letters to 3. Google new web address in Chine is www.g.cn
Now that is really easy to use and type in, what say? When you type www.g.cn, you will be redirected to 'www.google.cn'. Checking on Whois information of 'www.g.cn' domain reveal it is actually Google holding this domain (Registrant Organization: Google Ireland Holdings, Dnsstuff)  [via]
About India specific, just curious to know who owns www.g.in –  tried many resources to find out, but in vain. I guess Google missed the bus to get www.g.in
Anyway with amount of money Google has, you never know www.g.in may become their soon!