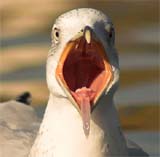 Google is one really big company. Being big bring its share of issues. Few critical issues including protecting brand name, prevent typo-squatting, holding domain names for future services and much more.
Here begins the fun, Royal Pingdom has compiled VERY interesting list of domain names being held by Google. It includes Misspellings and typos like: glugli.com, goolgel.com, gmale.com
Then there is set of domains that could be used for future Google services like: googlecasinogames.com, googlelovers.com, google4kids.com.
Then there are totally un-related domain names like: mariolovespasta.com, 30dayfitness.com, greengardengifts.com
Here is best for the last, those not safe for work and sucky domain names: googlepoo.com, googlemotherfu*ker.com, google-yahoo-po*n.com
Google even hold domains like googlewarez.com and goooooooooooooooooooooooooooooooooooogle.com More interesting domain names from Google's closet at Royal Pingdom [Photo By Finiky]