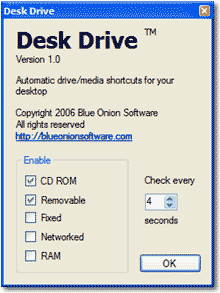 You have plugged in a USB drive, now open Windows Explorer and make few more clicks to finally access content of that USB drive. 
Desk Drive allows you perform the same in a 'single click'. It automatically adds a desktop icon pointing to the USB or DVD drive.
After you remove the media and the shortcut goes away. It sits in the system tray and gets activated when a media like DVD or USB drive is used.
You can also configure it for specific type of media being used. Using configuration window, you can enable/disable it for CD-ROM, removable, fixed, networked etc.
It also allows you to configure time for it to check for any new media being connected to the computer. Desk Drive works on Windows XP and Windows Vita (and .Net Framework 2.0).
No need for continuous clicking to reach the content window of connected media – download Desk Drive for automatic drive or media shortcut on your desktop. Simple, easy and of course less clicks involved. [via freeware Genius]