Yahoo Messenger has been one of the favorite instant messenger to stay connected with online buddies. Now all the goodness of Yahoo Messenger is available for iPad users. New and improved Yahoo Messenger app optimized for iPad experience is now available for free download. This allows you to IM, text, share photos and videos, make free voice and video calls to messenger friends – irrespective of which device other user is using including: Windows PC, Android phone, iPhone, iPod Touch, or iPad.
Download Yahoo Messenger app for Apple iPad
Yahoo Messenger application for iPad brings all features available in Yahoo Messenger IM software availble for other platforms like Windows. Following are few features enough to convince you to download Yahoo Messenger app on your Apple iPad device.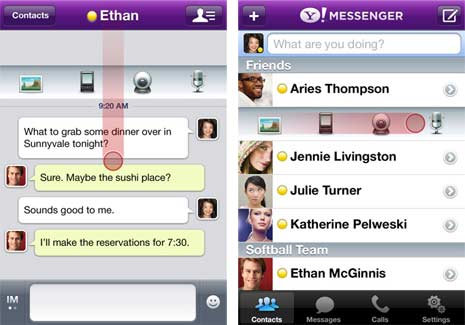 1. Ipad optimized – The user interface has been developed and optimized specially for iPad use. It takes into account iPad screen form factor to deliver best user experience.
2. Free calls – Just like Yahoo Messenger IM on desktop, you can make free audio and video friend to any friends using Yahoo Messenger on any other device.
3. MSN friends – You can also stay in touch with Windows Live (MSN messenger) friends and manage all contacts within Yahoo Messenger.
4. Send free SMS – It also allows you to send free text SMS to users in specific countries including: USA, Philippines, Vietnam, India, Indonesia, Malaysia, Canada, Pakistan, Kuwait and Thailand.
5. Cheap international calls – You can make cheap international calls using Yahoo Messenger to any phone around the world by using Yahoo Voice Phone Out account.
Download Yahoo Messenger for iPad tablet device and relish the best IM experience on iPad. Also, text chatting and audio video calling – its all possible using Yahoo Messenger for iPad.