Amazon has launched its own virtual currency in the form of "Amazon Coins". Here one coin equals one cent, so 100 coins can be purchased for one US dollar. Major incentive of using Amazon coins is overall saving of upto 10% and less. Once you load coins into your account, you can make quicker purchases without having to enter your card or bank account details.
Amazon Coins for apps, Not for Marketplace items
This is a major turn off, Amazon Coins can be only used to purchase Kindle Fire apps, games and in-app items at Amazon.com or on Kindle Fire. You cannot use them to buy Amazon marketplace items, even for virtual stuff like mp3 music, ebooks and so on.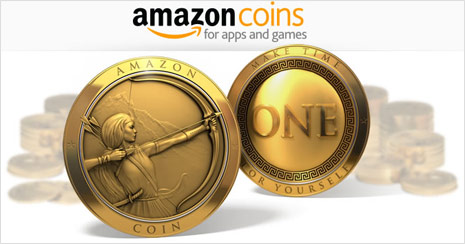 Free 500 coins to get started: Amazon is offering 500 coins of $5 value free to every US Kindle Fire owner. This makes it easy for select set of users to test out Amazon Coins for buying apps and games on Amazon.com website. This offer is only for US Kindle Fire owners.
How and where to buy Amazon Coins
Click here to buy Amazon Coins in multiple of 500, 1000, 2500, 5000 and 10000 only. Once you purchase coins they have lifetime validity and do not expire. Also, there is no additional fee attached to coin purchasing. However, unlike gift cards you cannot transfer coins or exchange back into real money.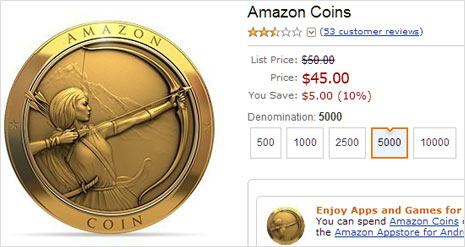 So, is Amazon Coins worth an effort? Well, in this form use of Amazon Coins may not take off in a big way. If purchase of other Amazon marketplace are allowed through Amazon Coins – this will be a sure shot winner. And yes, don't forget saving of upto 10% when you purchase indirectly through coins as against directly via money.