Blue Screen of Death (BSODs) error screen is familiar to every Windows users. This screen can appear as a result of corruption or conflict and displays technical error details which many Window users do not understand. BlueScreenView is a handy utility to see more details of BSOD errors and helps in easy identification of drivers causing it.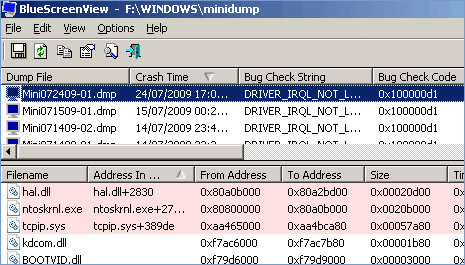 A minidump file is created during every BSOD error. This utility automatically scans all minidump files created during BSOD crashes and display all the information in tabulated form. For every BSOD error crash, it displays:
– BSOD Minidump file name.
– Date and Time of the crash.
– Bug check code and 4 other parameters.
For every minidump file created during BSOD error, you can view details of device drivers loaded during the crash in the lower pane of this utility. It also mark the drivers that their addresses found in the crash stack, so you can easily locate the suspected drivers that possibly caused the crash.
Download BlueScreenView utility [link] to see more details of BSOD errors on your computer and identify conflicting device drivers causing such crashes. This utility does not require install: just download, unzip and double click to start using it. Very handy and useful utility to keep check on BSOD errors.