For starters: VHD (Virtual Hard Disk) is a file format for Microsoft Virtual machines for use in Microsoft Virtual PC and Microsoft Hyper-V virtual machines (VMs). Disk2vhd is a free utility to create VHD from physical disk for further use in Virtual PC on your Windows based computer.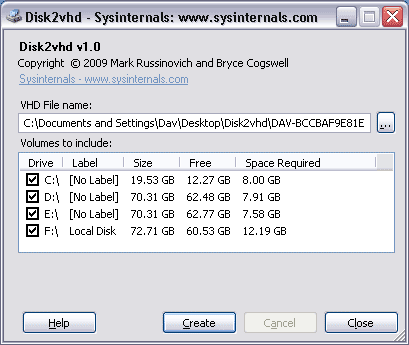 Disk2vhd interface window show available volumes on the computer. Enter the VHD file name and select volume drives to be included in specific VHD file. Click create button for making customized VHD file from physical disk on the computer. This utility uses Volume Snapshot capability of Windows to create consistent point-in-time snapshots of the volumes you want to include.
It is a small utility and is fully portable. Just download, unzip and double click program icon to start using it. One handy utility for quick creation of VHD files from selected volume. Download Disk2vhd and read more details.