Is text on your iPad screen too small to read properly? Due to iPad tablet form factor and screen size, few users may find it hard to read text content with comfort on iPad. Thankfully, you can increase font size of the text for comfortable reading and viewing of content displayed on iPad using following methods. You can modify size of text displayed in specific iPad applications as well as webpages being browsed in Safari on iPad.
Modify & change 'Large Text' settings on iPad
1. On iPad home screen tap on Setting icon. Then tap on 'General' option on left and then tap on 'Accessibility' option on right side.
2. On Accessibility Settings screen, tap on Large Text option. It will display different font size options like 20pt, 24pt, 32pt, 40pt, 48pt and 56pt.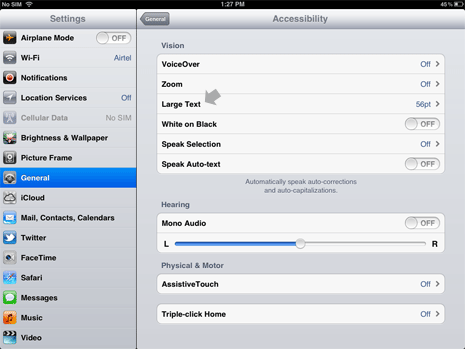 3. You can select text size as per your reading comfort level. This setting change will only modify size for text displayed in Calendar, Contacts, Mail, Messages and Notes apps on iPad.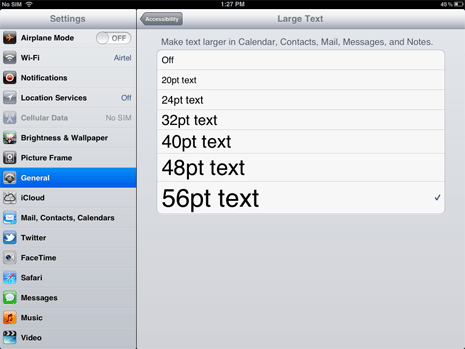 Bigger text size will help you read long email messages more comfortably on your iPad. Also reading messaages, contacts information, calendar listings, notes will be much easier to read with larger text size.
Change text size on webpages in Safari on iPad
You can also easily modify text size on webpages opened in Safari browser on your iPad. Just double tap on the webpage to zoom into displayed text and other content.

You can Pinch out to further zoom into displayed text on webpage and move around to view desired area of the webpage. Double tap again to restore back and view original version of webpage (text zoom level wise).
Video: How to increase Text Size display on iPad