Are you looking for easy to use portable FLV to MP3 converter software that does not require install?"FlvToMp3" is free FLV to MP3 converter without any bells and whistles. It can convert any FLV flash video into MP3 audio format. Final MP3 file is generated directly from the flv video file without re-encoding.
Portable FLV to MP3 conversion
1. Download FlvToMp3 converter tool.
2. Unzip downloaded file & double click "FlvToMp3" icon to launch program.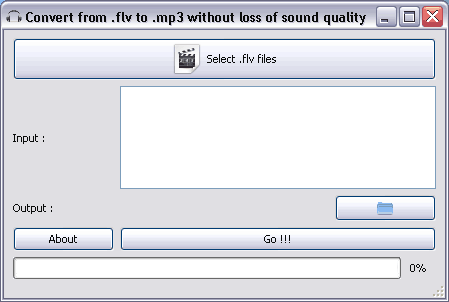 3. Click "Select FLV files" button to select and load FLV files.
4. Select the Output folder & click GO for the conversion.
If you prefer install-able programs then checkout Free Flash Flv MP3 converter, also see 10+ resources to convert FLV files into lot of other formats.