'BurnAware Free' is one better CD / DVD burning software ideal for home users wanting to burn data for backup purpose. This software wasn't free while ago when parent company was acquired.
Later this cool software was made free and available for free download & use. BurnAware is a simple and free CD, DVD, Blu-ray Disc burning software. You can create data, audio, MP3 music, DVD-Video discs and burning disc images. It has neat interface with features:
Create data and multisession CD/DVD/Blu-ray Discs.
Create Audio CDs, Jukebox (MP3/WMA) CD/DVD/Blu-ray Discs.
Record boot disc images and create DVD-Video.
On-the-fly writing for all image types (no staging to hard drive first).
Supports CD-Text and unicode characters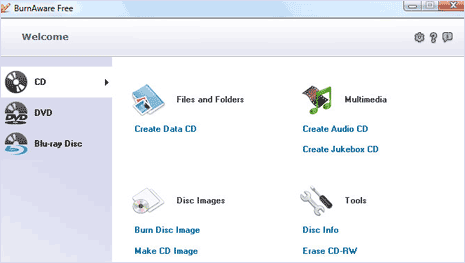 This free CD/DVD burning software works fine on Windows NT, 2000, XP, Vista (32 and 64 Bit) with no need for additional drivers. Download BurnAware Free for quick and easy burning of data. You can also checkout PRO version that offer advanced multimedia burning features.