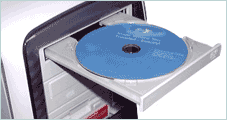 CD / DVD drive is used for more things that just playing and burning CDs /DVDs. Did we forget the play element involved? Like ejecting the drive tray and placing coffee mug and use it as coffee cup holder.
Well, such things can be avoided if its only mature people playing around. Kids love to play around with CD drives by constantly ejecting and pushing around. So, what is the solution to prevent such 'drive play' and still use the computer?
A small free utility 'CD/DVD Drive Locker' should be more than handy in such situation. Using this utility, you can temporary turn OFF the CD/DVD ROM. Once OFF, pressing eject button will not bring the drive tray out – keeping it safe and secure from kids and playful elements around.
Incase you want to use the drive, turn it ON and use it as you always do. Once kids show up with intentions to play around, use this utility to turn OFF drive tray eject. CD/DVD driver locker [link] is all free and work fine on Windows 2000, XP and Vista.