Majority of users do not have smartphones and accessing web services like Facebook is a dream. Well, this dream is now reality with new Facebook for Fonetwish service. It allows any mobile phone users (almost) like from old Nokia 3100 to latest smart phone users to update Facebook status for free. Further for a nominal fee you can get full control of your Facebook account by accessing advanced feature from your old phone without any need of internet connection or data plan for mobile phone.
Using Fonetwish for free Facebook update on Mobile
1. Dial *325# from your mobile handset. You will get pop-up to enter Facebook account password. Once password is verified, you will see menu for using Facebook on mobile phone.

2. Menu include items like: Update status (which is free) and other premium services like: news feed, post on wall, friend request and notifications (charged at Rs 1 per day for unlimited usage). You can update Facebook status quickly for free using this service.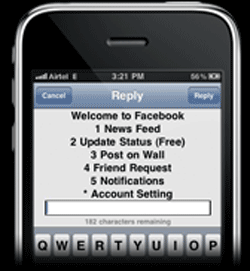 This service is supported by Airtel, Aircel, Tata Docomo in India and by XLcom, Telkomsel in Indonesia. If you have either of these mobile operator as your mobile connection service, then this service should work as explained above.
Note: Free Facebook on mobile with Fonetwish
1. Status update is free and for other services there is a charge of Rs 1 per day for unlimited usage. Facebook by Fonetwish does not have any additional roaming charges.
2. There is character limit of 140 characters and this Facebook update service should work on majority of old and new mobile phones.

3. Premium services include majority of Facebook routines like birthday reminders, facebook chat, notifications, wall posts, news feed and so on.
Give this service try and update Facebook status for free without subscribing to any expensive internet connection or data plan on your mobile phone. [More at fonetwish.com via labnol ]