Skype introduced Facebook news feed feature for viewing of Facebook updates within Skype software. Now it has more deep integration with Facebook (and Microsoft) accounts. Latest version of Skype allows you login into Skype using your exisiting Facebook or Microsoft (Hotmail, Live or Outlook) account. So, if you use Skype ocassionaly for one off chat or conversation, then there no need to create new Skype account. You can start using Skype with login details of existing Facebook or Microsoft accounts.
Use Skype with Facebook or Microsoft account login
1. This feature is only available in new version 6.0 or above of Skype software. First, goto Help > About to check version of Skype software installed on your computer. If the listed version is below 6.0 then goto Help > Check for updates to update Skype software to the latest version. Also, new Skype users can simply download the latest version from skype.com/download webpage.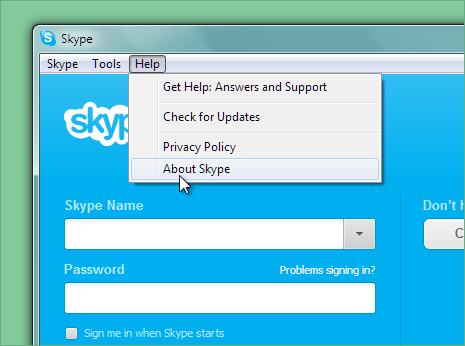 2. Skype update file will be automatically downloaded on your computer. Then click on Upgrade button to install latest Skype updates. Once installation is complete, you should see new Skype login window. Besides usual Skype login box, there are buttons for Microsoft and Facebook accounts.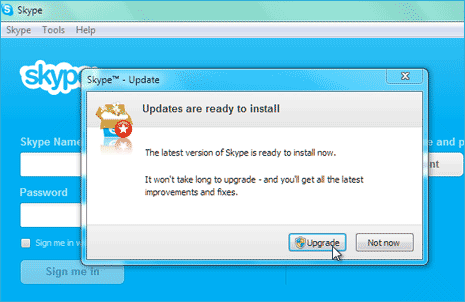 3. To login using Facebook account, click on Facebook button. You should see Facebook login screen, enter your existing Facebook account login details for logging into Skype. Then you should see exisiting or new user options, click on new user option to complete setup for login into Skype using Facebook account.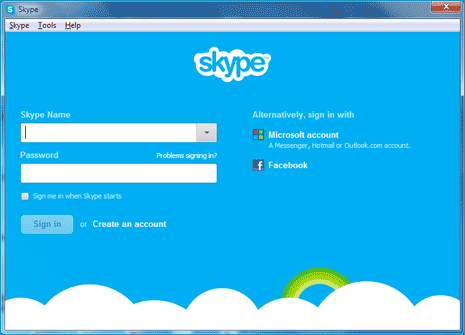 Similarly, you can login and use Skype using Live, Hotmail or new Outlook accounts from Microsoft. This for sure makes Skype more accessible as existing Facebook and Microsoft users need not create new account and use existing account(s) to access Skype goodness.
Video: Update Skype to login using Facebook / Hotmail
P.S. This update will make few changes in web browser settings. For example: it will set msn.com as default wesite and Bing as default search provide for Internet Explorer (and Google Chrome, Firefox – if already installled on your computer). You can only revert back these settings manually!