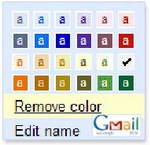 Gmail team seems to be on roll in bringing out new features. Gmail had successfully rolled out IMAP Support and recently introduced Emoticons & Group Chat Feature.
Now comes colored labels in your Gmail inbox. This allows you to customize the label color. To change the color, click on small box next to the label, a color selection box will appear.
From that box select the color and make your inbox colorful. Besides, you can also remove the label by clicking on 'X' button on top right part of the label. Here is how it looks in your Gmail inbox.

Gmail finally getting some colors and design (hopefully in future). This is the only aspect where Yahoo Mail scores over Gmail.
Gmail is surely rocking now, with storage space well over 5GB and host of new features things are getting better and better, what say? [via]