Youtube is a great place to watch cool videos of any category and choice. However, radical and non-sense commenting turns off the whole Youtube experience. At times we come across useless comments being posted on Youtube video page and while watching Youtube video, eye does catch on comments listed under the video player. Thankfully, there is quick and easy way to hide and remove comments section from Youtube video webpage.
Download 'Hide Youtube Comments' Chrome extension
Google Chrome users can easily implement removal of comments on Youtube video pages using 'Hide Youtube Comments' extension. It is a free Google Chrome browser extension to automatically hide and remove Youtube video comments listing.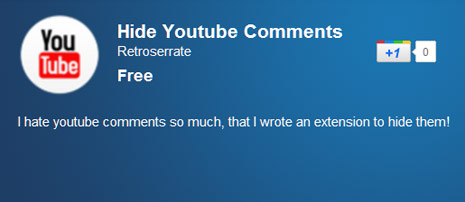 1. Open Google Chrome browser and then open Hide Youtube Comments extension webpage [Not available now – chrome.google.com/webstore/detail/ecpaalgloicolkmegllfbaefihemmpfn]. Click add to chrome button download and install this extension.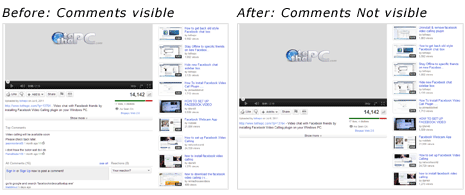 2. Once extension is installed, open Youtube webpage with video containing comments. From now on, you should not see any comments listed under Youtube video player.
There is nothing to configure or customize, this Chrome extension automatically removes comment section under Youtube videos. This for sure results in distraction free video viewing with more neater looking video webpage interface.
Video: Hide Youtube comments section in Chrome