[Update – Knol has been discontinued as of May 1, 2012] After Google's Q&A debacle, Google has quietly launched upcoming knowledge portal called 'Knol'. Concept is very similar to hugely popular Wikipedia of user generated content. Though one can also feel little vibes of popular about.com website. Knol involves users generate content on topics they are familiar. Here writers are known as 'Knols' who write on topics they expertise in. Author can choose to include ads and Google will provide the author with substantial revenue share from the proceeds of those ads. However, inclusion of ads is an author's option.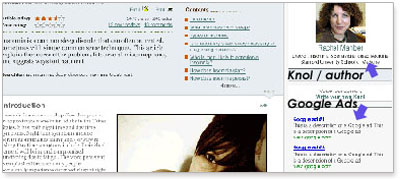 Knols will include strong community tools. People will be able to submit comments, questions, edits, additional content, and so on. Anyone will be able to rate a knol or write a review of it. Knols will also include references and links to additional information.
The goal is for knols to cover all topics, from scientific concepts, to medical information, from geographical and historical, to entertainment, from product information, to how-to-fix-it instructions. Google will not serve as an editor in any way and will not bless any content.
Now with money & Google completely involved, knol can surely attract some good authors, possibly among those who are active at Wikipedia. This could be Wikipedia killer Google needs to strengthen its position further in web space, what say? via