Holiday season with Christmas, New Year is all about fun with friends and family. Online world now provide lot of options to greet special people on special occasions in a special way. You can easily create custom video greeting card online for upcoming holiday season. Final greeting video can be complete fun with your real head on animated characters or you can  add personal touch using personal photos and video clips. Following are few online services that can help you make online video greeting cards and send them to special people around you.
Why video greeting – Besides being fun, online greeting cards videos are easy, inexpensive and eco-friendly as compared to printed greeting cards. Also you can see and listen video greeting cards that makes whole routine more interactive, what say?
1. Say it with Skype: Facebook app for video greetings
Say it with Skype Facebook apps makes video greeting a few clicks routine. Select the occasion and music tune on the app's home screen to get started with video greeting creation.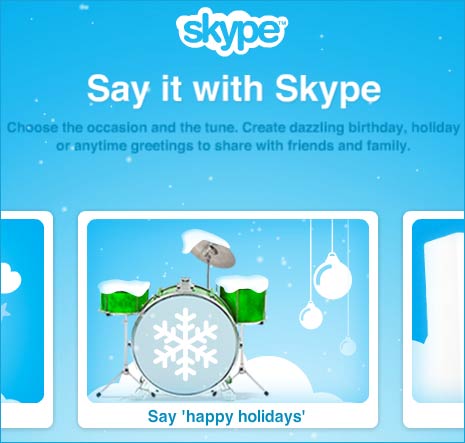 There is also sing along option that makes whole video greeting process more interactive and involved. Check this very easy way to make custom video greeting video using Skype app on Facebook.
2. Animoto: Great videos from personal photos & clips
Animoto provide easy to use professional looking online service for creating cool videos. You can create cool looking holiday greeting video from personal photos, video clips along with background music tracks.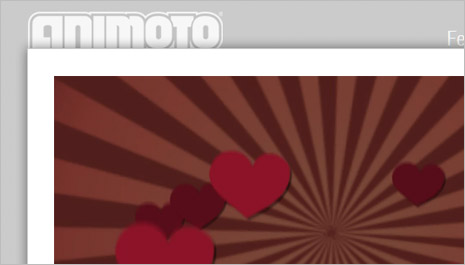 It has a free plan that allows you to create 30 second videos with limited collection of video styles and music sound tracks. For sure one worthy online website to check for creating quick personalized holiday greeting videos. After upgrade, features should flood and surprise you.
3. Card Funk: Your photo head on animated characters
Card Funk online service can add your head photo to animated characters displayed in a funky video. There are lot of pre-made animation videos. To get going, select specific video of your choice and then upload your own photos on the website.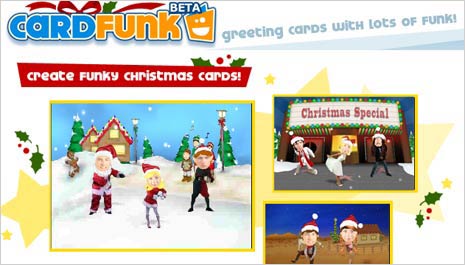 Then select the head portion and drag them to assign to heads of the animated characters in the video. For sure, it an easy to use online tool for creating impressive animated greeting video cards in no time – funky Christmas cards are flavor of the season now.
4. JibJab: Real head on fun body custom videos
JibJab takes the fun of showing real photo head on animated bodies to the next level by providing custom options. It offers large variety of pre-made funny videos to choose from. Once you make a video selection, you can make it more customized by selecting one to five characters (real heads) to feature in that video.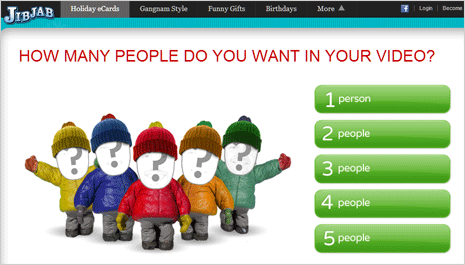 It also allows you to select and add different classic tunes to the your funny video greeting card. It has handy collection on offer: from holiday specials like Christmas, New Year's, Easter, Thanksgiving to every-day fun like Gangnam style, elections, office fun, Chippendale's and so on.