Gmail when accessed on iPad and other tablet device has neat stretched multi column layout to show more more content in wide screen format. If you are using widescreen monitor, you can switch to similar format by splitting Gmail inbox into different columns with dedicate email content preview pane. You can implement horizontal split or vertical split using Preview Pane Gmail labs feature. This is another useful inbox management addition, besides the custom Gmail inbox styles to view unread, important, starred emails in more easy manner.
Enable Preview Pane to split Gmail inbox window
1. Login into your Gmail account and open Gmail Labs webpage by going to Settings icon > Mail Settings and then clicking on Labs tab button at the top.

2. Type preview pane in box next to 'search for a lab'. You should see listing of "Preview Pane by Peter B & Michael K".  Provides a preview pane to read mail right next to your list of conversations, making mail reading faster and adding more context.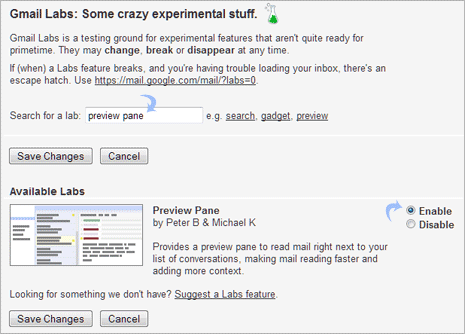 3. Click to select Enable option next to 'Preview Pane' option and then click Save Changes button at the bottom. Now click Gmail icon at top left to go back to default inbox window.
4. Now you should see new options button at top right part. Clicking down arrow next to the button will show options: No Split, Vertical Split and Horizontal Split.

5. You can select Vertical Split and Horizontal Split options one by one and test drive changes in your default inbox layout. In split inbox style, you can view Gmail messages list and preview of specific message on the same screen without refreshing. Very handy, isn't it?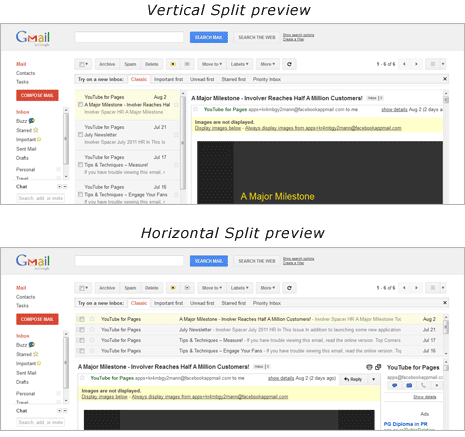 6. By default, it takes 3 seconds to display preview of specific email message in the preview pane. You can increase or decrease this time by going to Settings icon (at top right) > Mail Settings.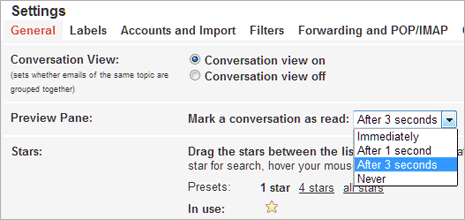 On Settings page under 'General' tab look for "Preview Pane: Mark a conversation as read" option. Select time from the drop down box among options: immediately, after 1 second, after 3 seconds and never. Click Save Changes button at the bottom to confirm settings change.
Split inbox view of Gmail with dedicated message preview window is a time saver for user with email overload. One can check email messages faster in this format as against flipping through different web pages to preview contents of email message. [via Gmail blog]
Video: Divide Gmail layout vertically or horizontally