iTunes is a cool software to manage music on the computer. However, it lacks some basic and much needed features for easy management of music. iTunes Toolkit application fills that gap and make iTunes more powerful by adding to cool features to iTunes. You can easily add downloaded audio tracks to your iTunes libarary using iTunes toolkit application.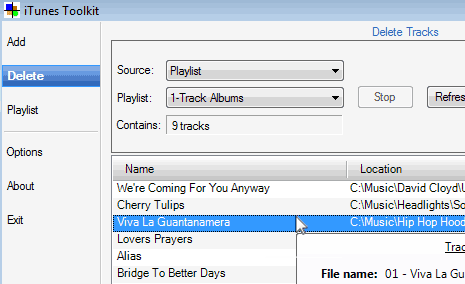 It can also organize new tracks in playlists by album or folder location or in one inclusive playlist. It is useful in audio track permanent deletion or sending them to recycle bin. It also take care and deletes any orphaned JPEG picture files of different album cover art which have been deleted.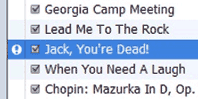 It can help check dead tracks which iTunes identify by showing exclamation sign on the extreme left. A dead track is one for which iTunes cannot find the corresponding file and are result of file rename or deletion. It scans and lists all dead tracks which you can delete. For iTunes 8.1 it also allows repair of dead tracks, if they have been renamed or moved to a different folder.
It also makes playlist creation process of your favorite audio tracks real easy. You can make playlist of tracks by folder/location or album track count. Download iTunes toolkit to put your iTunes on steroids and perform more with relative ease. It is available in both installaable and no install version that do not require install. Make sure you have iTunes application already installed on the computer before launching this iTunes toolkit.