AVCHD is a video format for recording and playback of high definition videos. It was jointly developed by Sony and Panasonic. HD video files recorded using camcorder are in AVCHD format. One needs to convert AVCHD files to common video format for quick and easy playback. Free AVCHD converter comes real handy for such conversion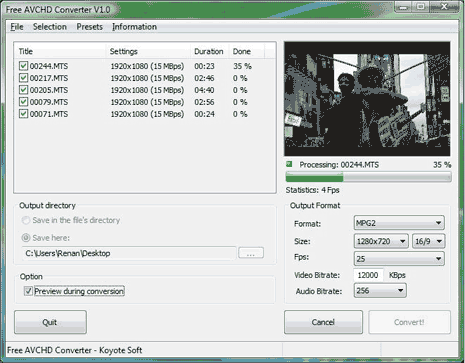 Features of AVCHD converter
1. Convert all your MTS and M2TS files.
2. Convert AVCHD files to AVI , MPEG2, WMV format.
3. Convert AVCHD files to IPOD and Mp4 format.
4. Works with video files of Sony, Canon camcorders.
5. Free utility & works on Windows 7, Vista, XP & 2000.
Download Free AVCHD converter (select 2nd last link on left menu) for quick conversion of HD camcorder video files to common video formats like AVI, WMV, MPEG. It support number of camcorder brands including: Canon HF10, HG20, Sony HDR-SR1, HDR-XR100.