Do you want to convert and package an EXE file as MSI application install package?" EXE to MSI converter" makes this conversion real easy. It is a free tool to convert Setup Executable (.exe) to Windows Installer Packages (.msi). After conversion MSI packages can be used to deploy software using GPO.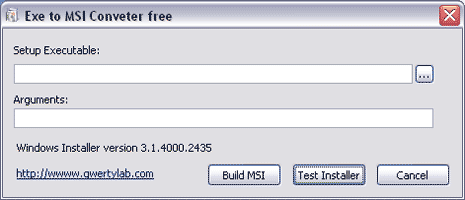 Use EXE to MSI converter
1. Download EXE to MSI converter & install the utility.
2. Launch the utility & browse to select executable EXE file.
3. Enter Arguments & click build MSI button for output as MSI package.
This converter utility works fine on Windows Vista, XP, 2000 and Windows Server. It is free utility of small size 987 Kb and quickly perform EXE to MSI conversion.