Do you want to read contents of an Excel file without Microsoft Excel program on the computer? One quick way to do this is by converting Excel file into a text file. Oncilla Excel2Text is a free converter utility for such conversion which does not required Microsoft Excel program to be installed on the computer. Resultant text files can be in any format including: UTF-8, ANSI or Unicode.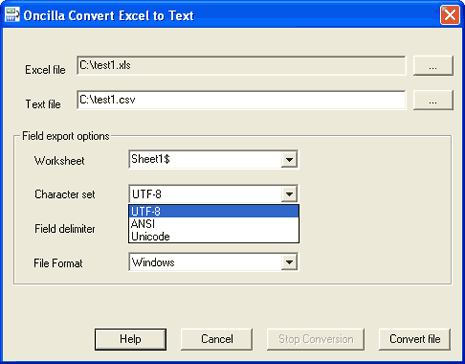 Convert Excel to Text file format
1. Download Oncilla Excel2Text coverter utility.
2. Double click downloaded file & install the converter.
3. Launchconverter, Start > Programs > Oncilla > Oncilla Excel2Text
4. Select the Excel file & select name of resultant text file.
5. Chose name of the worksheet in the Excel file.
6. Select Character Set Output encoding & field delimiter.
7. Also select Output file OS format & click Convert File button.

As seen in above screenshot, this utility also works in command line mode for batch style conversion. One easy to use simple converter for Excel to text format conversion.