Do you want to pass on secret text message without being scanned by mail sniffer or network administrator? One clever way to share textual information is by encrypting text in any photograph image (also called Steganography). You can add encrypted text within a photo. Receiver will see usual image and can view attached text message on decryption of the received image.
I. SteganographX to hide text in bitmap photo
SteganographX is a portable tool that can hide text within a BMP bitmap image. You can encrypt and decrypt text within BMP photograph using this cool free program.
1. Launch the program & click Open button to load BMP image.
2. Type your hidden text in the bottom window.
3. Click Encrypt button & save the BMP image.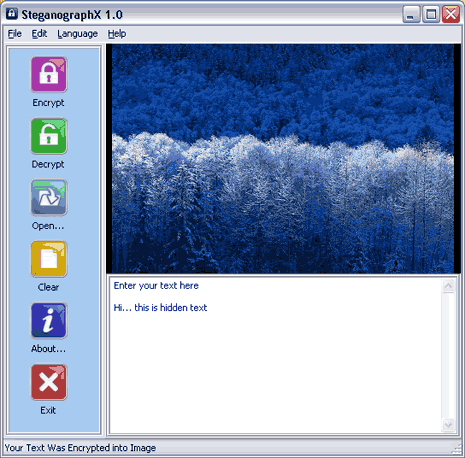 4. Share the image. To view hidden text, just open the newly created image in the program and click decrypt button to view hidden text. Quick, simple and easy – what say?
II. More Free tool to hide text in images
1. Image Hide – You can embed hidden text in any photo without increasing the overall image size. It supports BMP and PNG image formats and encrypted images with text can be easily bypass email sniffers.
2. Concealer – It is another easy to use utility for protection of both cryptography & steganography. Final textual content encrypted image can easily avoid detection by the commonly used steganalysis techniques.
Steganography is a technique of writing hidden messages which only sender and received can view. This method is used for secure and private communication. Note: This information is for educational purpose, do not use this for any unlawful activity, use discretion!