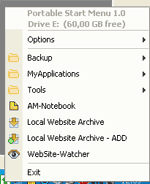 Portable Start Menu allows easy access to your favorite programs. You can even carry your 'start menu' on a USB drive for a quick access on other computer.
Using this, you can organize programs in a simple menu system and launch them via a tray icon.
It also checks if an application has been changed before execution. Running applications can be close automatically, when you close Portable Start Menu on an USB drive or Stick.
USB stick version allows application usage without leaving any trace on host PC. Nice little application for quick portable access to programs, the easy way.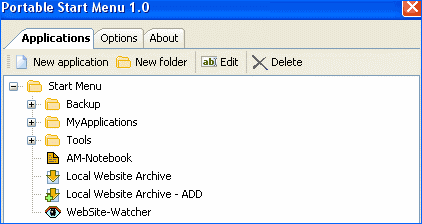 Download Portable start menu [link]. This free software of small size 1.1 MB works fine on Win9x, Me, NT4/, 2000, 2003, XP and Vista.