In-built Windows utility show the status of battery and indicate if its charging or running out of power. If you want more detailed information with neat graphically loaded display then checkout BatteryBar. It sits on system tray and display all the important battery information in pop-up window.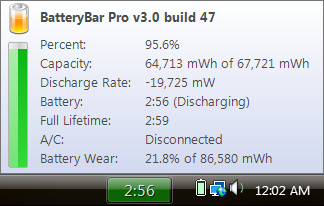 It keeps historical information and provide accurate estimate of remaining battery time. It shows battery remaining time in different colors indicating varied status of battery charge. It has cool Vista style look integerating well with your Vista OS.
It supports over 13 languages and display detailed information including: max capacity (mW), current capacity (mW), charge rate (mW), discharge rate (mW). Download BatteryBar (free version – XP, Vista) to know more about laptop battery status with all the jazz. Pro versions has additional features but free version got most of them!