Just got married and had a baby… oh sorry, this should be – happily married for few years and expecting a baby. Now you need to decide on the name for this new member/baby in the family. This simple task can be huge at-times.
No worries though, you can take help of Baby name assistant Nymbler. It is the smart baby name guide that responds to your personal taste. Just choose a few names that appeal to you or let Nymbler offer ideas. Then press "Find Names" and it will start using its expert knowledge to brainstorm names tailored to fit your style.
They claim to have huge database of names. The look and usability of the tool is very interesting. Relief is… you are not bombed with hundred of names at one go. Smartly designed window show 18 names at a time and  a click on them show more details.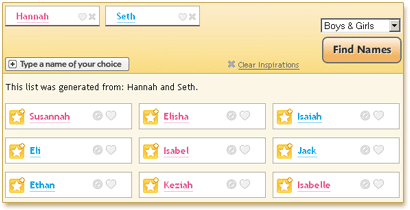 For name 'Leo' it says… A boy's name of English and French origin that was the name of a saint. Leo was most popular in 1921 and is currently ranked #258 among the U.S. boys' names.
Nymbler: Website – How it works – About 
Besides general information about the name, it also explain about origin of a particular name. There is more information to the fact if a particular name is getting popular or on decline. You can search for names of boys or girls or both simultaneously. Very handy tool to do some baby names searching!