Paypal is best way to send and receive money online. It is a reliable service that supports transfer of fund among people located in number of countries. However, with so many currencies and fluctuating exchnage rates – calculating exact Paypal transfer fee can be a tricky thing.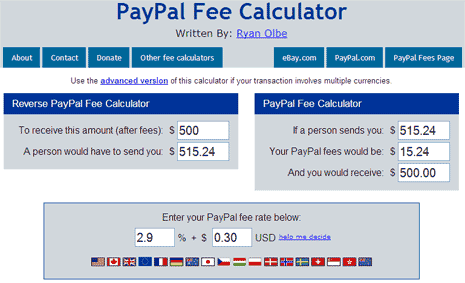 Paypal calculator by Ryan Olbe makes this easy and dead simple. Just enter any amount that recipient should receive, this online tool will let you know exact funds you need to transfer. For example, to transfer $500 you need send $ 515.24 ($15.24 is your paypal fee).
It also has advanced mode, if you wish to perform transactions involving multiple currency. Online Paypal calculator gives fair idea of Paypal fee amount involved before you make actual transaction. Very useful tool for frequent Paypal users.