As of now, phone calls for US and Canada are free for rest of 2010 year. Phone Calling from Gmail powered by Google Voice for other countries can be done at nominal rates. Calling rates are different for each country [google.com/voice/rates]. You can add credit or load money for making quick and easy phone calls to any country at nominal rates.
Load credit money for International Gmail calls
1. Login into Gmail account and click 'Call Phone' button in the chat list. Is 'Call Phone' button missing?
2. In the call window, click account balance (like $10.00) link.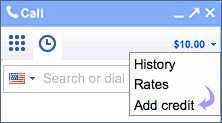 3. Then click 'add credit' button to add credit / money for making International phone calls from Gmail.
You can click 'rates' button to view rates for calling in different countries.
4. Follow on-screen instructions to complete the credit purchase for Gmail phone calls via Google Checkout service through your credit card.