Are you looking to follow and interact with more Twitter users with similar interests? Browsing Twitter profiles manually to find relevant Twitter users worth following can be time consuming routine. You can automate this process and get relevant Twitter users suggestions by using "Follow Finder by Google". This online tool analyzes public social graph information (following and follower lists) on Twitter to find people you might want to follow.
Find Twitter users that you might follow
1. Open Google Follow Finder website. Then enter your Twitter username (only username, no password is required).

2. In few seconds, this tool will show results for "Tweeps you might like" and "Tweeps with similar followers". You can checkout Twitter users listed under "Tweeps you might like" and follow any listed Twitter user.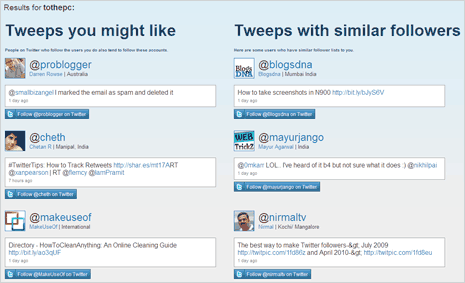 Click Next button at the bottom for more results of Twitter users suggestion that you might follow. For sure one handy and simple online tool to get information on more Twitter users. [via Google Blog]