We often open and browse multiple websites at any given time. With tabbed interface, browsing multiple websites in a single browser window is easy and it saves time. Sometimes while browsing, you may need to attend to an offline task urgently. Immediately closing browser window will close all opened websites (webpages) and you need to manually look for specific webpages again while reverting back to online browsing. This can be easily avoided by saving URLs of opened websites before closing the web browser window.
1. Bookmark to save URLs of all open tabs in one go
One quick and simple way to save all opened websites URLs is by bookmarking all of them in one go. While multiple tabs are opened, press Ctrl + Shift + D keys, this will open "Bookmark all tabs" dialog box. Enter name for that bookmarks folder and click Save button.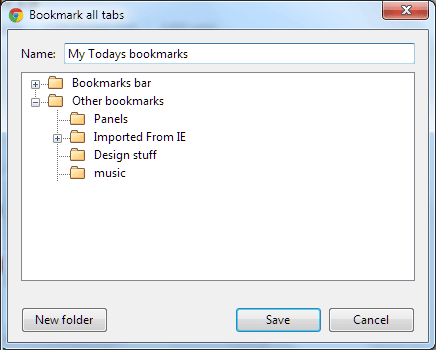 All the opened websites URLs will be saved in specified bookmarks folder. Later you can access bookmarks section to open specific or all website URLs as per requirement. This feature works in both Google Chrome and Firefox browsers.
2. Use 'Save browsing session' plugins
There are number of extensions for Google Chrome browser allowing you to save, edit and restore browsing session. Session Manager is a popular Google Chrome extension that lets you save sessions of your opened tabs and windows. Further, you can quickly re-open them whenever you like. You can also make custom session by grouping specific type of websites in a particular session. Besides this, Session Buddy is another useful Chrome extension with functionality of saving, managing and restoring browsing sessions.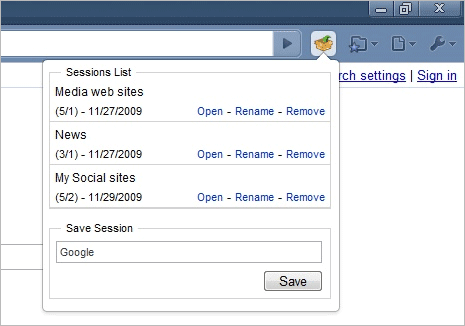 Firefox users can use Session Manager plugin for adding functionality to save web browsing sessions. It can automatically save the state of open windows individually at startup, after crashes or periodically. It is a handy plugin for users with Firefox as default web browser.
3. Save open tab URLs to clipboard & text file
Either of above options won't be useful, if you are web browsing on a public computer or friend's PC. All the saved URLs will remain on the public computer and you cannot take them with you for use on your personal computer at home. In this case, instead of bookmarking URLs within browser – you can copy and save URLs on clipboard and then to a text or html file. You can install specific extensions to add such functionality to the browser.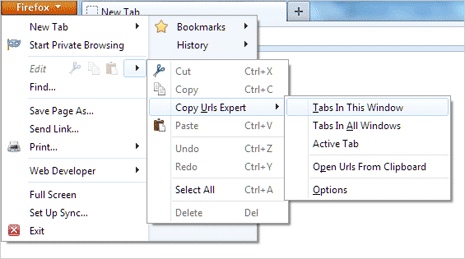 Google Chrome users can install Copy All URLs extension which can copy all opened tabs URL to clipboard and then save as text or HTML. While Firefox users can install Copy URLs expert plugin that allows you to copy Urls of all Opened Tabs of the current Window. It also provide additional functionality allowing you to: copy urls of tabs in all Windows, copy urls of all links in selected text and copy urls of all images in selection.