Gmail now has all the goodness of calling any phone number (just like we do using Skype). Google is slowly rolling out phone calling feature powered by Google Voice from within Gmail inbox interface. Using this, you can make phone calls with a click of a button by logging into Gmail inbox.
How to make phone calls from Gmail
1. Login into Gmail account and click "Call phone" at the top of your chat list and dial a number or enter a contact's name.
2. If you do not see "call phone" feature, make sure you are logged into chat. Also, make sure you already have 'voice and video plugin' installed for successfully making calls from Gmail interface.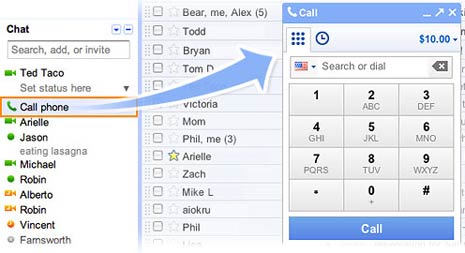 This feature is only available to US and Canada Gmail users. It should be available to users worldwide very soon.
3. Calling pop-up window will open. You can type the contact name or phone number and click 'call' button for making calls.
Free calls & phone calling rates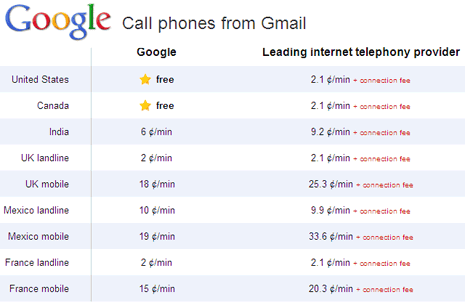 Calls to the U.S. and Canada will be free for at least the rest of the year 2010. However, calls to other countries will be billed at very low rates, for example: calls to the U.K., France, Germany, China, Japan can be made for as little as $0.02 per minute. View Rate chart
Video teaser: calls in Gmail
This for sure is very convenient feature to reach to friends anytime from Gmail inbox. Response to this feature should be very good, provided it is rolled out to users at large quickly. [via Gmail blog]