"… is my website or blog hacked?" This is first question that comes to mind when website appear radically different to what it should or it together does not show anything. Website hacking, content spam and abuse is getting more rampant in online world. While there is Google Safe Browsing Page to check on public status of any website, now you can get more information within Google Webmasters panel.
Google Webmasters message center Alerts
From now on, Google will send you alerts withing message center of Google Webmasters Dashboard regarding any malicious or spammy activity associated with your listed website or blog. As pointed by official blog, you will receive alerts for following issues:
1. Spammy or abused user-generated content.
2. Abused forum pages or egregious amounts of comment spam.
3. Suspected website or blog hacking.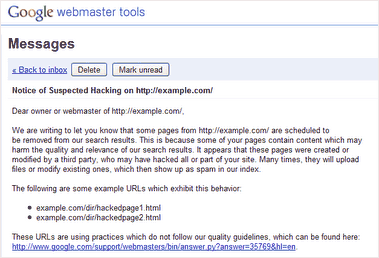 Above is a sample screenshot of message alert. To use this functionality, make sure your website is registered and verified in Google Webmasters Tools (google.com/webmasters/tools/). Also, you can enable email alert forwarding to receive timely alerts via email. For sure a handy feature for safer and clean internet.