Now you can embed auto play presentation that jump to next slide after specified interval of time without you having to click. Besides insert and display tables, auto-play embed is a new feature in Google Docs presentations. You can enable time delay, autostart, loop options before the final embed of presentation. Here is the simple procedure: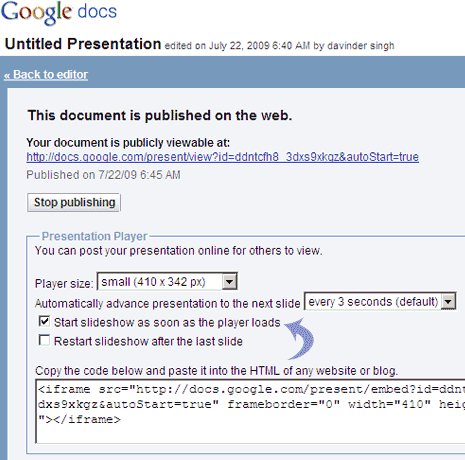 1. Click Share > Publish / Embed (located at top right while in presentation editor of Google Docs Presentation).
2. Select the player size and then select time after which presentation shows the next slide. By default 3 seconds is selected.
3. Tick or check option "Start slideshow as soon as the player loads" for auto play of slideshow. You can also select option "Restart slideshow after the last slide".
4. Copy the embed code and paste it to display auto play Google Docs Presentation. See example here