Every cricket fan wants to stay updated with latest cricket scores and news. If you happen to use Google Chrome as default web browser, then you can stay in touch with latest in cricket using ESPN CricInfo Chrome extension. This free plugin display latest cricket news, features and live scores from cricinfo.com website.
Live Circket updates with ESPN CricInfo extension
1. Open Google Chrome [or download from google.com/chrome]
2. Open ESPN CricInfo Chrome extensionwebpage.
3. Click Install button for installing this Chrome extension.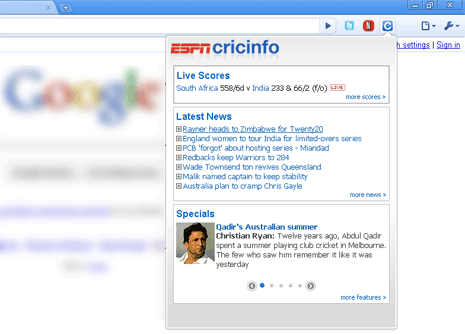 4. After install, click C icon of ESPN CricInfo to see latest Cricket updates with Chrome. You can click through to see more details for specific stories on CircInfo website. You can also access latest Cricket updates on good old Google Search.