New Gmail makeover has resulted into more simple looking inbox layout with majority of button icons loosing their colors. Icons at the top part of Gmail are now all black (like buttons for Archive, Report Spam, Delete, Move To and Labels). While this may appeal to few users but black icons make Gmail inbox way too boring. You can easily add color to these button icons by replacing black buttons with more colored ones with a click of a button.
'Color Icons for Gmail' Google Chrome extension
1. Open your Gmail inbox and then open any email message in it. Notice those black button icons at the top. We are going to add color to those buttons. Now open color icons for Gmail extension download page. Click Add to Chrome button for automatic installation of this Chrome extension.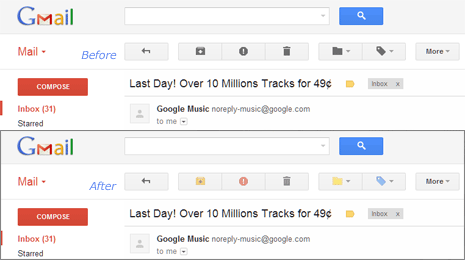 2. Reload (or refresh by pressing F5 key) your Gmail inbox message box, black icons should be replaced by colored button icons. Now everytime you open your Gmail inbox to read or compose messages, you should see brightly colored button icons instead of so boring black icons for tasks like Archive, Report Spam, Delete, Move To and Labels.
With different color for each button icon, they are more easy on eyes while viewing and using buttons for various tasks within Gmail inbox, what say?