There are number of third party software available to capture a webpage and then save it as an image file. Next step would involve editing that screenshot in some other software like photoshop, paint shop etc.
However, if you are FireFox user then you can perform both the steps within FireFox by installing one FireFox Add-on called Fireshot.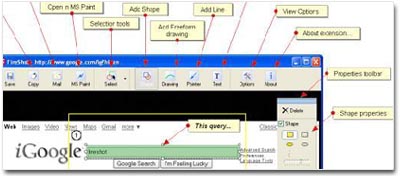 After you take a screenshot using Fireshot you have set of editing and annotation tools available to quickly modify captures, insert text, blur it and add other graphical annotations.
After capturing and editing you can save image as PNG, JPEG, BMP, copy to clipboard, send to external editor or e-mail it.
FireShot: FireShot Website – Video Demo
This can surely make like easy in combining sequential process of capturing and editing. However, in case you still want to capture using tradition means, then check 5 Ways to Capture Screenshot of a website. [via – Mozilla Links]