Everyone love personalization while using gadgets and online services. Assigning your name to Apple iPad device that you own is a common practise. Are you looking for a way to rename and change the existing name on your iPad? Changing name (ideally removing name information) on iPad is a good idea, specially before selling your iPad device to someone else. This will automatically prevent new owner from using your name on iPad. Sometimes we want to change name while switching between full name and nickname.
Modify & edit owner Name on iPad device
1. Turn ON the iPad and tap on Settings icon on the home screen. This will open Settings screen and now to continue tap on General option on left panel.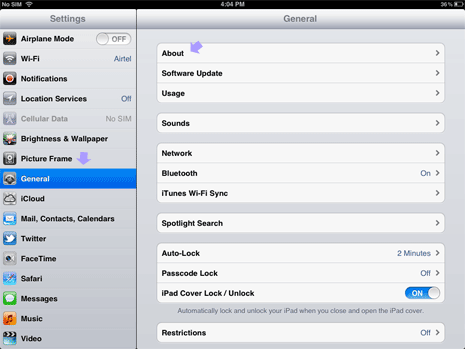 2. On General settings screen tap on About option at the top. Now you should see Name option at the top showing currently selected name on your Apple iPad device.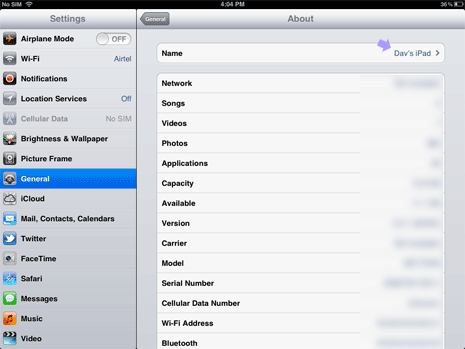 3. Tap on Name option and should see box allowing you to edit the current name. Type new or modify existing name as per requirement. Once you done typing, new name will be assigned to your iPad.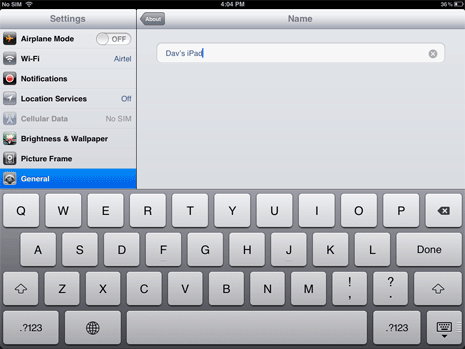 You can also edit name from iTunes interface. For this, connect your iPad to computer using cable and launch iTunes on computer. Then double click on listing of your iPad name under Devices section. You should be able to edit name assigned to iPad.