Internet can come real handy for planning upcoming holiday trip. With so many options, choosing best travel destination can be confusing. You can make such decisions easily and quickly by neat comparison of your favorite travel destination. After once glance at travel destination comparison at Bing Travel you can select city that should on your travel itinerary.
Compare multiple travel destination locations online
1. Open Bing Travel webpage. Alternatively, you can click Travel link on Bing homepage. Also, you can change your country location from top right for more customized options.
2. Then click on Destinations tab on Bing Travel webpage.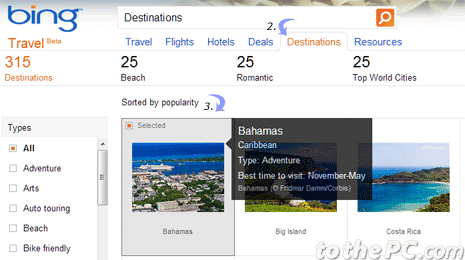 3. Click to select destination cities for comparison. You can filter destinations known for beaches, romantic getaways, top world cities and top spring break from top menu.
4. Once you have selected multiple destination locations click on Compare button at top right part of the webpage.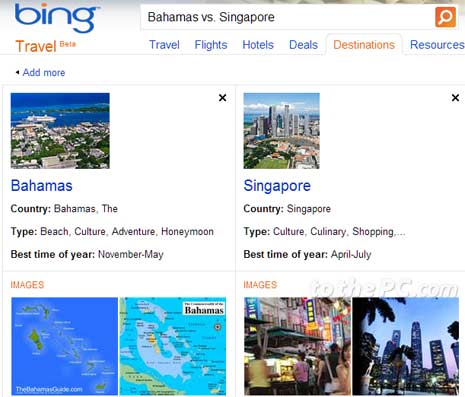 5. You will get comparison details in the form of a table listing all important aspects including: type of weather, best time of year to visit, images, hotel details and more. Similarly, you can select different travel destinations for quick comparison and make informed decisions regarding destination for your next holiday endeavour. [via Bing Blog]
Once you have selected travel destination you can get going by making travel route online with Google Map Maker. And of course, before going on holiday make sure to setup automatic vacation reply email in Gmail or Yahoo Mail.