Bing decision search is good and zippy. However, some users are worried about easy access to porn and mature results on Bing search. Video search auto plays mature videos on mouse over, giving free ride to users looking for such content. By default, safe search is ON and you can make sure by confirming on preference settings on Bing.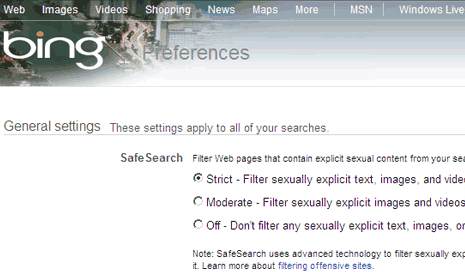 To get started, click country name at top right part of the Bing window and then click United States English option. Now click extras > preferences. You can select safe search option among: Strict, Moderate and OFF and then click on save settings button. Such configuration can still show up mature results, specially on video result pages.
There is ever safer and fool proof way to block porn or mature content on Bing. All such content is now being routed through single sub domain URL explicit.bing.net [source]. Just block this URL and get Bing minus that iffy content. You can block "explicit.bing.net" using procedure to block specific websites on the computer. Bingers – be safe!