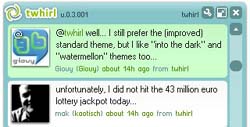 twhirl is a Free desktop client for twitter, based on the Adobe AIR platform.
It runs on both Windows (XP/Vista) and Mac OSX. You can use multiple Twitter Accounts with twhirl.
It automatically fetches your friends status updates, as well as replies and direct messages for you – into an all-in-one timeline. Color-coding helps in identifying different types of messages.
It has cool visual and audible notifications for new tweets. Newer version support cross posting to Pownce and Jaiku.
Other features of this software include:
Keyboard shortcuts and system tray / dock icon support.
Ability to shorten long URLs (using snurl.com).
Automatically checking for twhirl updates.
Ability to search public tweets (powered by terraminds).
Language localization (English, German, Italian, Spanish).
Details: twhirl – Documentation – Download
Best part, this cool desktop application is FREE. So, get set to twitter right from your desktop in a new cool way with twhirl.
Twitter Tools: 3 ways to share photos on Twitter from PC/Mobile