Web apps allows you to add more features and functionality to Google Chrome in regard to access of web content. Chrome Web Store has extensive listing of different type of web apps and you can install web apps in Chrome as per requirement. After install, you can customize it further for opening and using web apps in different ways. You can pin web app window to tabs bar or even launch web app in full screen window.
Pin or open web apps full screen in Chrome
1. Open web apps listing page to view installed apps. Click + sign on the tabs bar or press Ctrl + T to open new blank tab with list of installed web apps.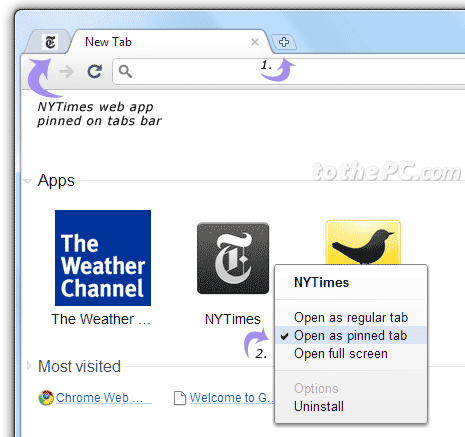 2. Right click on specific apps and then click on 'Open as pinned tab'. This will pin specific app window on the left side of tabs bar in Chrome browser.
3. To open web apps in full screen mode, right click app and then click on 'Open full screen' option. This setting will launch web apps in full screen window resulting in distraction free web app usage and browsing.