Majority of Gmail users quickly click reply button on the opened email window for writing reply message for the same. While this is a good routine for small email messages, there is a neater way to reply long email messages in Gmail. When you click reply button whole messages is appended and  displayed at the bottom of the reply message. Gmail allows you to only select specific text in the received email and append only that part of the text at the bottom of reply message instead of adding complete long received email message text.
Write reply to specific & selected email text in Gmail
1. Open email message in your Gmail inbox for which you want to reply. Then select part of the text of received email message using mouse that you want to append and display at bottom of reply email message.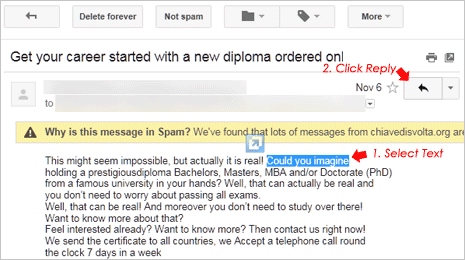 2. Now click on Reply button located at top right of the Gmail inbox. The reply window will only show selected text at the bottom instead of full email message text.
This for sure is a quick way of replying to specific part (or points) of received email message. It makes your reply email message more neater and receiver gets precise idea on point of discussion – what say? [via jgc blog]