Gmail has added another feature with drag and drop support. Previously, you could drag and drop files to Gmail interface to upload them as attachment. Now you can even drag photos to display them inline within message body being composed in Gmail. So, if you are too lazy to use insert inline image button just drag photos to insert them in Gmail message.
Insert images by drag & drop in Gmail
1. Goto Gmail.com and login into your account.
2. Click Compose button for writing new email message in Gmail.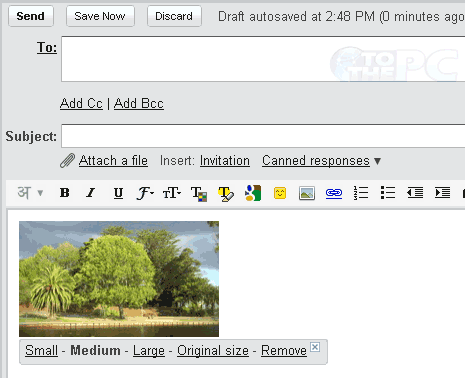 3. Drag any photo from desktop or folder on the computer.
4. It will be automatically uploaded and displayed inline in Gmail message window.
You can select image display size among: small, medium, large or original size. This feature only works in Google Chrome browser as of now. For sure neat feature for faster and easier Gmail experience. [via Gmail Blog]