Google has huge user base of Indian users. So, if we have Bollywood stars Orkut themes- why not Bollywood stars Chrome themes! Google recently released artistic themes for Google Chrome browser users. It has also released few bollywood based themes featuring top movies and stars from Bollywood (India).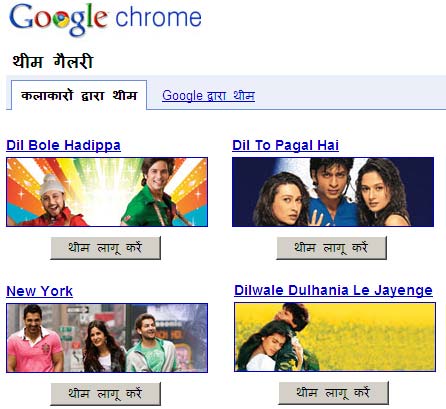 As seen in image above, current Chrome themes are from latest bollywood movies like Dil Bole Hadippa, New York to evergreen blockbuster movies like Dil To Pagal Hai, Dilwale Dulhania Le Jayenge.
To install these themes, download & install latest Google Chrome browser. Then open bollywood themes webpage and click apply button to render specific theme to Chrome browser. Easy way to put your favorite bollywood stars on Chrome browser while you browse favorite websites on the internet. For sure one cool addition for bollywood fans around the world, like it?