Just like Firefox now you can easily deck Google Chrome browser with your favorite look. Latest version of Google Chrome (version 3) has official stable support for changing theme of the web browser. You can add or change look of  Chrome browser using themes as listed in Official Google Chrome theme gallery.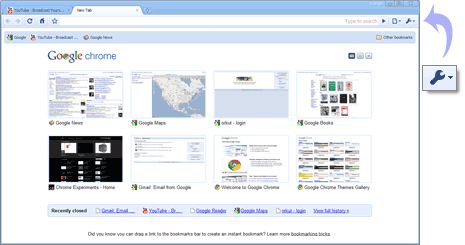 Change Google Chrome theme
1. Download Google Chrome (version 3 or above) & install it.
2. Launch Google Chrome browser.
3. Click on wrench menu icon (see seen in screenshot above).
4. Goto: Options > Personal Stuff tab > Get themes. Alternatively, you can directly open Google Chrome Theme webpage in Google Chrome.
Preview and click on any theme as listed on official theme webpage. Click on Apply Theme button to see that theme applied on Chrome browser. You can revert back to default theme by clicking "Back to default" message or click apply theme button under Classic Chrome theme.