Google Chrome browser can be given a new look by using a different theme. Do you want to customize Chrome with colors and images of your choice? You can easily do this by creating custom Chrome theme on you computer in few mouse clicks. CRX theme creatore is a free program that allows you to generate customized themes for Google Chrome browser.
Generate custom Google Chrome themes

1. Download CRX Theme creator program. It is a portable program, just download and double click to launch it.
2. Then create PNG format images that should be used in your custom theme. You can use any image editing program like Photoshop, GIMP or more.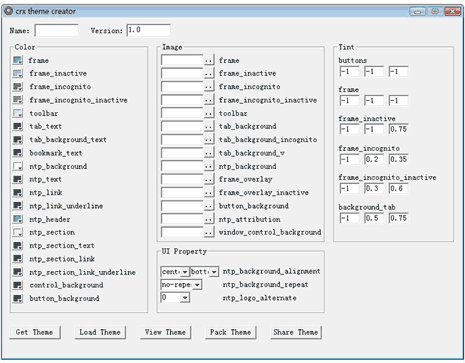 3. Select color or PNG image for different parts of the Chrome theme in the theme creator program window.
4. Then click "View Theme" button to preview your Chrome theme. Make sure you close all Google Chrome window before clicking to preview theme.
5. If you are happy with theme looks, finalize the theme by clicking "Pack Theme" button. A file with theme.crx name will be created.